JUST ONE MORE WEEK HOUSTON!!!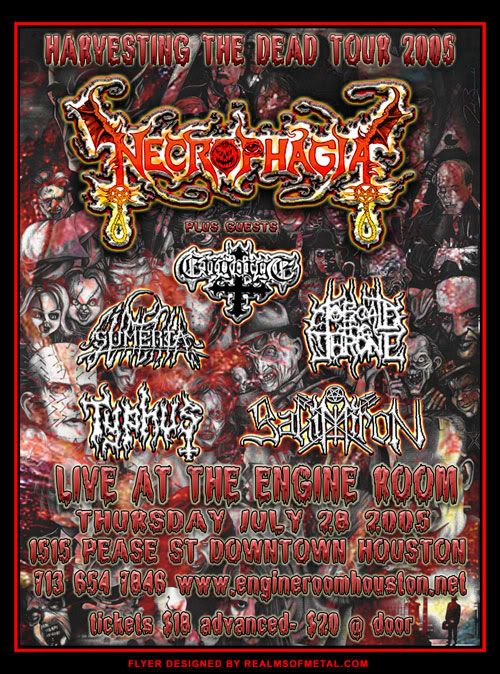 HARVESTING THE DEAD US TOUR 2005
July 28th @ The Engine Room
1515 Pease Street in Downtown Houston
(713) 654-7846

NECROPHAGIA
(OH, JPN, IT, NOR) Season Of Mist / Red Stream
1st U.S. Tour and appearances since 1986
www.necrophagia.com
KILLJOY, vocals, also from RAVENOUS, WURDULAK, EIBON, HELLPIG
FREDIABLO, guitar, also from GORELORD
ISCARIAH, Bass, also from IMMORTAL, WURDULAK
FUG, Guitar, also from SOUL FORSAKKEN, WURDULAK
MIRAI KAWASHIMA, Keyboards, also from SIGH
TITTA TANI, Drums

ENGORGE (NJ, CA)
Dark Horizon Records
www.engorge.homestead.com
X Members of MORTICIAN and INCANTATION

SUMERIA (CA)
www.sumeriakult.com
www.myspace.com/sumeria



BAHIMIRON (TX, NV)
www.Bahimiron.cjb.net


TO SCALE THE THRONE (TX)
www.toscalethethrone.com
www.myspace.com/toscalethethrone



DAGON (TX)
www.cultofdagon.tk
www.myspace.com/cultofdagon



Please Note that the line up has changed, Typhus is unable to play the tour for reasons unknown.
Special Note from Killjoy: Typhus WILL be headlining Milwaukee Metalfest this year with Necrophagia,,Engorge!!! Typhus will NOT be playing the California show dates for the Harvesting the Dead tour.They regret any foul feeling towards this decision!!!!